If you thought you knew everything there was to know about Vue 3, think again – there's still so much to learn! The world of tech is constantly evolving, and as schools re-open after the summer holidays, it's a good time to relook your own set of skills and ask yourself if it's time to brush up on your knowledge. Vue School has launched a great set of offers to help get you started.
Keen to level up your Vue skills?
Take your career as a developer to the next level with one of the most popular and in demand JavaScript frameworks. Explore some of the best Vue courses in the world and take advantage of this opportunity to learn from our expert teachers.
Head back to school and get up to 45% off a Premium Subscription!
Sign up now!
Pay as little as $13.75 a month to access our library of over 800 Vue courses, including the Vue.js 3 Masterclass!
What's in it for you?
Brought to you by some of the most experienced trainers in the industry, you'll master Vue.js and the ecosystem in no time! Learn new techniques, avoid common gotchas, discover best practices and ship less bugs when you choose from:
📚 800+ Lessons
⏰ 67 Hours
💻 42 Courses
Plus enjoy these awesome benefits:
Access to Source Code.
Beginner/Intermediate/Advanced Courses.
Stream or Download Lessons.
Access to Exclusive Slack Workspace ← Interact with other developers.
New Content added weekly ← Stay subscribed for fresh content and keep your skills up to date.
Access to The Vue.js 3 Masterclass ← Build a real world app from scratch!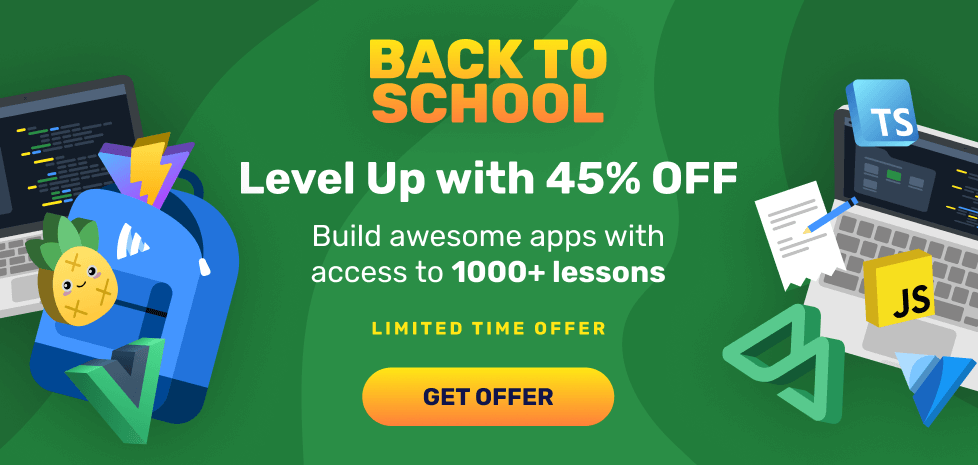 What will you learn?
Vue.js - Access a huge catalog of Vue.js courses to help you with anything from setting up your first Vue application to developing advanced user interfaces.
Nuxt.js - Starting with the Fundamentals of the framework, we guide you from scaffolding to deploying your Nuxt.js applications.
Pinia - Pinia is the officially recommended global state management solution for modern Vue.js applications. Its intuitive API, dev tools integration, and small size make it perfect for any application.
Testing & Jest - Ready to improve your daily life by writing better tests? We'll teach you all the testing jargon and techniques you need to know to test your Vue apps with confidence.
GraphQL -GraphQL is a query language for APIs and a runtime to execute said queries. At Vue School you will learn GraphQL and how to use it with Vue.js using Vue Apollo.
TypeScript - JavaScript is a pre-req to learning Vue.js but TypeScript is the next level for JS development. Discover the safety and improved IDE support that a type system can provide with TypeScript courses crafted especially for Vue developers.
+ Many more courses like Vue Router, Vite, Storybook, JamStack, Firebase, Sentry, Veutify
Choose the plan for you!
From beginner to intermediate and experienced, there are so many paths to master Vue.js.
Take advantage of these amazing offers and learn to code like a pro!
🗓️ Yearly – 45% off! Get full access to all our Vue courses for just $165 and give yourself all the time you need to get through 800+ lessons. Great for beginners or those wanting to become Vue.js pros!
🚀Lifetime – 33% off! Stay up to date with ever-evolving technologies – get lifetime access to all the lessons forever PLUS get fresh content every week for just $450 (was $670). Save $220! This is the first time that Vue School has ever put such an amazing discount on our lifetime offer!
💡 3 Months - 33% off! Great for intermediate or advanced users or those that have specific learning objectives. Was $75, now only $50!
Don't miss out!
Take advantage of our awesome Back to School offers before they're gone and start learning Vue.js today! These are all time limited offers.